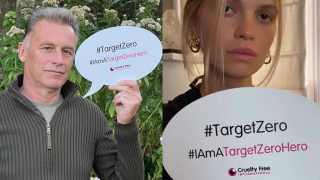 Chris Packham and Pixie Geldof are #TargetZeroHeroes
Naturalist Chris Packham and model Pixie Geldof have joined the launch of our Target Zero Hero campaign to end animal experiments in the UK.
In 2021, there were over three million procedures on animals in laboratories in Britain. We believe that's three million too many - but by working together we can reach Target Zero.
The three long-standing advocates of animal protection have used their superpowers to post their support on social media using the hashtag #IAmATargetZeroHero – and you can join them.
Will you be a Target Zero Hero and stand up for animals in laboratories?
There are three things you can do to support our Target Zero campaign:
Post your own Target Zero Hero photo on social media
Our Director of Government and Regulatory Affairs, Kerry Postlewhite, said: "We are hugely grateful for the support of Chris and Pixie – and everyone who will make themselves a Target Zero Hero in the coming weeks. The three million procedures on animals that were carried out in UK laboratories in 2021 is three million too many. We have seen welcome reductions in some tests – including those required by product safety rules, painful skin sensitisation tests and eye irritation tests – and we want to build on these successes until every laboratory cage is empty. But we can't do it without you!"
Our Target Zero campaign is demanding an ambitious government-led strategy to end experiments on animals, and a government minister solely dedicated to leading a fast transition to animal-free science.
If you are able to post on social media, please feel free to add a superhero cape – worn by yourself or your companion animal – and use the hashtag #IAmATargetZeroHero.
You can use our template letter to write to the Secretary of State for Business Energy and Industrial Strategy, Kwasi Kwarteng MP, calling for an ambitious action plan to bring animal experiments to an end.
You can also contact your own MP to ask them to sign Early Day Motion 223, to make sure that UK laws contain a commitment to the full replacement of experiments on animals.