Simon Cowell and Vanessa-Mae photographed by Rankin to launch our new global campaign against dog experiments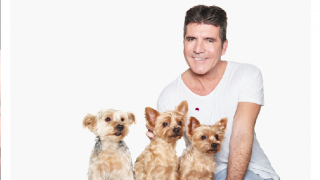 Today we launch a major new global campaign to end the use of dogs in experiments. And to help us, a host of celebrities have been photographed with their companion dogs by world famous photographer Rankin.
Simon Cowell was photographed in Rankin's London studio with his companion dogs Squiddly, Diddly and Freddie.
He said: "I have always loved dogs but had no idea how much happiness they would bring to my life. Squiddly, Diddly and, now, Freddie are hugely important members of my family - and even the thought of any dog being mistreated sickens me. That's why I'm supporting Cruelty Free International - to stop dogs being used for experiments in laboratories around the world. No dog should be treated in such a way. After all, they are man's (and woman's) best friend."
We're delighted that Simon Cowell, violinist Vanessa-Mae, comedian and author Julian Clary, and actors Michael Fox (Downton Abbey) and Eleanor Matsuura (Cuffs) are speaking out for dogs in laboratories.
Every year, thousands of dogs suffer in cruel experiments across the globe. Our dogs campaign will raise awareness about the issue and persuade governments worldwide to put an end to dog tests.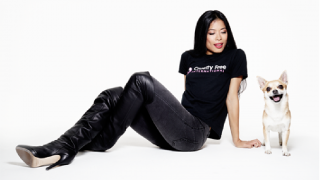 And we're thrilled to kick off our campaign with Simon Cowell, star of The X Factor and America's Got Talent, speaking out in a major cover story for the UK Mail on Sunday's Event Magazine yesterday.
Cruelty Free International Ambassador Vanessa-Mae was also photographed by Rankin with her companion Chihuahua Max. 
She told us: "Dogs share our homes and our lives. The thought of the thousands of dogs who suffer and die in laboratories worldwide is too horrific to comprehend. As an Ambassador for Cruelty Free International, I am speaking out against experiments on dogs.  Together we can end this cruelty once and for all."
Michelle Thew, Chief Executive of Cruelty Free International, said "We are thrilled to have such high profile support for our global campaign to end experiments on dogs. There are strong ethical and scientific reasons against using dogs in research. Dogs are trusting and forgiving yet they are being betrayed in their thousands by humans, the very ones they look to for affection and reassurance."