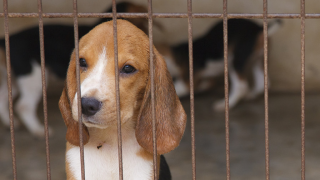 Figures released today show that 3.06 million animal tests were conducted in Great Britain's laboratories in 2021 – a disappointing 6% increase compared to 2020. While this is not surprising – the number of tests in 2020 was artificially low because of the impact of the COVID-19 lockdowns – we had still hoped that the 2020 figures could have been the jumping-off point for an acceleration towards zero animals used in research and testing.
All, however, is not lost – the latest figures still contain plenty to be pleased about. 2021 saw a 24% decrease in regulatory tests: legally required tests conducted on products like chemicals and medicines, in which animals are forced to ingest or inhale substances or have them applied to their skin or injected into their bodies, sometimes daily for weeks or months.
2021 also saw a 21% decrease in skin sensitisation tests on animals and, for the first time, zero eye irritation tests conducted in animals – a fantastic result that we have been working hard to achieve.
Whilst 446 fewer severe experiments – those causing the highest levels of suffering – were conducted in 2021 compared to the previous year, there were unacceptably still over 58,000 experiments in that category.
The latest figures show a welcome 21% decrease in experiments on rabbits and a 31% decrease in experiments on guinea pigs, though devastatingly, there was a 17% increase in tests on monkeys.
Our Director for Government and Regulatory Affairs, Kerry Postlewhite, said: "Any cruel animal test is one too many and we will continue to fight for zero animal experiments in the UK. But it is also important to celebrate the wins that we and our amazing supporters and partners have made and remain hopeful that together we can achieve target zero animal experiments in the UK."
The UK desperately needs a strategy to end animal testing and, crucially, someone with responsibility to drive that transition forward. We are calling for the appointment of a government minister who would focus on leading and accelerating the transition away from animal experiments and be accountable for progress. This Minister for Animal-Free Science would coordinate work across government to bring about much-needed change.
Help us TARGET ZERO ANIMAL EXPERIMENTS and sign up for our urgent campaign alerts. You'll be the first to hear the latest appeals, campaigns and news on how you can support us to end animal research in the UK.