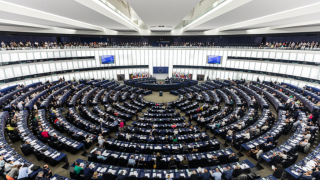 We still need your help to end animal testing in Europe
The European Citizens' Initiative, 'Save Cruelty Free Cosmetics – Commit to a Europe Without Animal Testing', was debated in the European Parliament on Monday, for the final time before the European Commission publishes its official response by 25 July.
Many of the MEPs spoke of the need to respect the wishes of the 1.2 million people who signed the ECI, and to increase and accelerate the use of non-animal methods in place of animal testing.
Clare Daly, Left Group MEP for Dublin, said: "The EU lauded the fact that we became a world leader ten years ago in banning cosmetics products being tested on animals, so it's time for us to stop the double standards now. It is beyond time for us to respect... the 1.2 million citizens who are demanding a legally binding act to end animal testing for cosmetic products and ingredients under REACH… There are alternatives, and we need to commit to a Europe without animal testing, and I really hope that the Commission come up with a roadmap for that."
Caroline Roose MEP, member of France's EELV Party, continued: "Nothing now can justify animal testing being carried out for cosmetics. There are alternatives, and often they are even more reliable than animal testing. We need to have a comprehensive action plan for the training of professionals, funding and regulation to reduce animal testing significantly."
Polish MEP, Elzbieta Kruk, from the ECR group said: "There are modern alternatives which are more effective and better than out-dated animal testing. Let's support the call from our citizens, and call on the Commission to prepare a roadmap to phase-out all animal testing, to support modern technologies, and change from financing animal testing to alternative methods. Let's stop the cruelty to animals."
The ECI, which was also supported by global beauty and personal care companies The Body Shop and Dove, became only the seventh to have successfully passed the threshold of one million verified signatures when in January it was confirmed that 1,217,916 people had demanded an end to the outdated and unreliable use of animals in cosmetics and chemicals tests, as well as urging the Commission to develop a roadmap to phase out animal testing across all scientific purposes.
In September 2021, MEPs voted by an overwhelming majority (667 to 4) in support of an action plan to accelerate the transition from the use of animals in research and testing to human-relevant science across the EU. Last year, the Commission also committed to plan the full replacement of animal testing for managing the safety of chemicals in the European Union.
Director of Science & Regulatory Affairs, Dr Emma Grange, said: "Our ECI gave voice to the millions of animals used in laboratories in the EU every year, and we welcome the support from those MEPs who spoke in favour of the ECI's objectives. We now await the Commission's formal response to our ECI, and call for it to honour its commitment to plan the full replacement of animal testing. We know that a show of leadership from the Commission can help to drive scientific progress in the use of animal-free approaches for cosmetics testing, chemicals testing and for all uses of animals in research and education."
Sign up for campaign alerts below to make sure you don't miss out on important news about what we are doing for animals in laboratories.