But it ignores citizens' wishes on cosmetics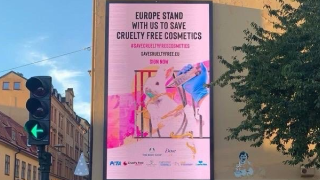 The European Commission will immediately begin working on a roadmap to phase-out animal testing in Europe – but refuses to protect and uphold its ban on animal testing for cosmetics in its final response to Cruelty Free Europe's successful European Citizens' Initiative.
Stating that "[f]or chemicals that are not solely used in cosmetics, animal testing is permitted… to fulfil the requirements under [chemicals legislation]" and "registrants of chemicals exclusively used in cosmetics may need to perform animal testing to satisfy the requirement to assess the risks to workers and the environment under [chemicals legislation]", the Commission's response, disappointingly, claims that "it is not yet considered sufficient to perform safety assessments for human health and the environment without any animal testing due to the lack of accepted alternative methods".
Therefore, whether a chemical is used exclusively in cosmetic products or in other products too, animal testing will continue to be allowed in the EU, rendering the ban meaningless.
In response to the ECI's call for the transformation of EU chemicals legislation, the Commission   promises to immediately start work to develop a roadmap, with milestones and specific actions to reduce animal testing, which will be implemented "in the short to longer term". A key element of this roadmap will be "to analyse and to describe the necessary steps to replace animal testing in pieces of legislation that currently require animal testing for chemical safety assessments." This work will include a meeting of EU Member States and stakeholders later this year, with the roadmap due to be published by 2025.
The Commission will use research, education and training to address the third objective of the ECI, to modernise science in the EU. It will also increase cooperation with EU Member States and "continue to support research on alternatives to animal testing with substantial funding".
Positive commitments made by the Commission in response to the ECI include:
To develop a roadmap to end all required tests on animals for industrial chemicals, pesticides, biocides, and human and veterinary medicines

To explore the creation of an expert scientific committee to provide advice on the development and uptake of non-animal approaches

To propose an action of the European Research Area to coordinate national policies to replace the use of animals in laboratories and speed up development and implementation of non-animal methods

To organise one or more workshops with experts to determine future priority areas of research to accelerate the transition to animal-free science
The ECI, which was also supported by global beauty and personal care companies The Body Shop and Dove, became only the seventh to have successfully passed the threshold of one million verified signatures when in January it was confirmed that 1,217,916 people had demanded an end to the outdated and unreliable use of animals in cosmetics and chemicals tests.
Our CEO, Michelle Thew, said: "While we welcome positive actions to replace the use of animals in experiments and chemicals tests, it is outrageous that the cosmetics testing ban that we fought so hard for, and European citizens voted to protect, is being made effectively meaningless. The European Commission has ignored the demands of 1.2 million people and condemned more animals to needlessly suffer in the name of beauty. The people of Europe have made it clear that experimentation on animals has no place in modern society, whether for cosmetics or any other product."
You can help support our mission to end animal testing in Europe by making a donation to support our work today.