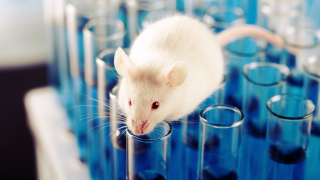 We call for their recommendations to be implemented without delay
According to an investigation conducted by the UK's Animals in Science Committee (ASC), an independent body providing advice to the government on the use of animals in research and testing, animals are being used in experiments to produce antibodies without adequate scientific justification and despite the availability of animal-free production methods.
The report outlines recommendations for licence holders, including the need to provide evidence that they have exhausted all other possibilities before using animals and explaining what efforts they are making to replace the use of animals in future work. We will be contacting the authorities urgently to urge that these recommendations are implemented without any delay.
We estimate that tens of thousands of animals are used each year in the UK to produce antibodies – a cruel practice that involves injecting mice, rabbits, goats and other animals with substances that stimulate their immune systems to produce the desired antibodies before "harvesting" them by draining large quantities of blood from the animals or removing lymphoid tissue, such as their spleens. The animals may suffer from harmful side effects and are often killed in the process.
Scientifically superior methods of producing antibodies that do not use animals have been available for many years. In fact, antibody production is one of the tests on our Replace Animal Tests (RAT) list, which highlights animal tests that still take place despite having accepted replacements.
The ASC was prompted to conduct its investigation following a recommendation from the EU Reference Laboratory for alternatives to animal testing (EURL ECVAM) in 2020 that urged researchers to recognise the scientific and economic benefits of animal-free antibodies and to stop the use of animals in antibody production unless there is a robust, legitimate scientific justification for their use.
Our Head of Science Policy and Regulation, Laura Rego Alvarez said: "The ASC reviewed 31 licences permitting the use of animals for antibody production and found inconsistencies in the way that licence holders justified using animals. According to the report, many licence holders failed to sufficiently demonstrate that they had searched for alternatives to using animals and, in some cases, shirked this legal and ethical duty entirely, stating that their clients could not achieve their objectives without the use of animals – without confirming whether this was true. Other licence-holders used the accessibility and cost of animal-free antibodies as an excuse, while some simply stated that it was not possible to use alternative approaches without further explanation. This is not good enough, and we will be raising this issue formally."
To help us end all animal experiments in the UK, please urge your Member of Parliament to support an end to animal experiments. You can use our quick and easy tool to contact them and ask them to add their signature to a motion currently tabled in parliament.