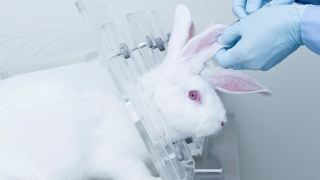 Join our Target Zero campaign to end animal experiments in the UK
The UK's High Court has given us permission to apply for a review of the Home Office's policy on animal testing. 
Testing cosmetics on animals has been banned in the UK since 1998 – the first ever ban on the practice – but in its August 2021 letter to us, the Home Office admitted that it now allows animal testing for cosmetics in the UK. 
Tests are required even where chemicals are used exclusively as cosmetics ingredients, effectively overturning the cosmetics testing ban. 
The Judicial Review – which decides the lawfulness of a public body's actions – has been brought for two reasons. Firstly, to confirm that the law does ban cosmetics testing on animals – and therefore no licences for this type of testing should be issued – and secondly to confirm with safety testing that the Home Office must assess the usefulness of the product or ingredient when deciding whether to grant a licence for animal tests. 
The Animals (Scientific Procedures) Act 1986 requires this assessment, based on ethical considerations and the likely benefits to humans, animals or the environment. However, the government now says that a licence for animal testing must be granted for tests which analyse the safety of a product, regardless of how useful the product is or how much suffering is involved. 
This application for a Judicial Review follows our letter to the Home Office, co-signed by more than 80 companies, including Unilever, Avon, Boots, Waitrose and the Co-op, voicing concerns that ingredients in beauty products would have to be tested on animals in the UK. 
Our Director of Government and Regulatory Affairs, Kerry Postlewhite said: "This Judicial Review is vital to establish whether there is a ban on cosmetics testing on animals in the UK. The Home Office admitted in its letter to us that it now allows most if not all animal testing for cosmetic ingredients – including those used solely in cosmetics. 
"The Government seems to be telling the public one thing – that cosmetics animal testing is banned in the UK – and doing something entirely different in practice. We know from poll after poll that the British people are firmly opposed to animals suffering for beauty. A poll carried out by YouGov last autumn revealed that 85% of people in the UK find it unacceptable to test cosmetics ingredients on animals." 
Our Target Zero campaign is demanding an ambitious government-led strategy to end experiments on animals, and a government minister solely dedicated to leading a fast transition to animal-free science. Find out how you can be a Target Zero Hero to end animal experiments in the UK.