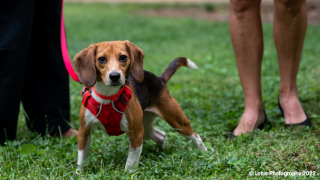 Help us end animal testing for good
A recent article in National Geographic exposed the shocking lack of consequences faced by laboratories for even the most serious animal welfare violations under the U.S. Animal Welfare Act.
It's the job of the United States Department of Agriculture (USDA) to ensure that animals held in laboratories are provided with minimum welfare standards and protected from neglect through the issuing of penalties or fines. However, as National Geographic points out, even laboratories that receive millions of taxpayer dollars for research, and those with billions in revenues, face penalties so small that the facilities likely consider them merely a cost of doing business. 
Examples provided in the article include,
Lovelace Biomedical Research Institute, a private research company with more than $76 million in revenues was fined just $6,200 in 2022 for three animal welfare violations, including the death of a young monkey who appeared to have died from starvation and dehydration. The necropsy found the monkey had "little to no" body fat, "marked dehydration", and "prominently recessed eyes".

 

Colorado State University, which

received a $6.7million grant

 from the National Institutes of Health and

a $12 million grant

from the USDA, was fined only $5,800 for multiple animal welfare violations

,

including preventable animal deaths.

USDA inspectors documented 

dozens of welfare violations

 at Envigo, a research breeding facility in Cumberland, Virginia

,

where hundreds of puppies died and more than 5,000 dogs were found in small, filthy cages with food covered in insects, mold and feces. However, the USDA didn't confiscate the dogs, issue fines or revoke or suspend their license. The company later agreed to 

shut down the facility

 and the remaining dogs were surrendered for adoption.

 
This awful news follows a recent UK government report which found that between 2018 and 2019 animals suffered and died through a staggering 107% rise in cases of non-compliance with UK laws protecting animals in laboratories. Cases included 112 rats crushed to death in a trash compactor, 860 fish dying after water drained from a tank due to failure to close the valve, and, in an accident not noticed by staff, a primate dying after being trapped behind a restraint device. In most of these cases, the only consequence was a 'letter of reprimand' being sent to the laboratory involved. 
Monica Engebretson, our North America Head of Public Affairs, said, "The minimal care requirements afforded by the Animal Welfare Act are often the only legally prescribed protections for millions of animals in laboratories across the country. Weak enforcement of the AWA runs counter to long-standing public concern for animals used in laboratories. Indeed, the original AWA was passed in 1966 following massive public outcry over the use of animals in laboratories. The USDA is failing the animals and the American public."  
The lack of enforcement of even the most basic welfare requirements for animals ultimately condemned to suffer and die in experiments adds to the urgency of our work to end animal experiments once and for all.
Sign up to receive updates on Cruelty Free International's work, campaigns and lobbying, and ways that you can become part of our community.