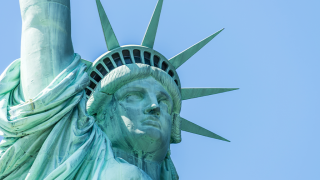 Calling all New Yorkers to urge Governor Hochul to sign the bill into law!
We are now closer than ever to achieving a Cruelty Free New York. Cruelty Free International has worked tirelessly over the past few years with key legislators to get to this all-important point.
The New York Cruelty Free Cosmetics Act (A5653-B/S4839), a bill introduced by Assemblymember Linda B. Rosenthal and State Senator Alessandra Biaggi to prohibit the sale in the State of New York of any cosmetic product that has been newly tested on animals, has successfully passed the floor of the New York State Assembly with a vote of 143-1. The bill passed the Senate last week and will now be sent to Governor Kathy Hochul for final consideration.
Monica Engebretson, our Head of Public Affairs North America said, "We are thrilled that the New York Cruelty Free Cosmetics Act has successfully passed the New York Assembly and Senate. US history has shown that state activity leads to changes at the federal level. Because of New York's association with the fashion and beauty industries, passing the New York Cruelty Free Cosmetics Act could be the tipping point that leads to the passage of a federal Humane Cosmetics Act."
Results of a February 2022 poll of New York State-registered voters conducted by the Siena College Research Institute show that New Yorkers are against animal testing for cosmetics and prefer to buy cosmetics not tested on animals. The poll indicated that voters are supportive of a law that would prohibit the sale of new animal tested cosmetics in the state and revealed that there is broad agreement on this issue across political affiliation, region, ethnicity, age, and income. *
If you live in New York, you have the chance right now to do something amazing for animals – use our quick tool to urge Governor Kathy Hochul to sign the bill into law!
If you are not a New York resident but live in the United States, you can help too by taking action to support the federal Humane Cosmetics Act.
If you live in the UK, please urge the UK Government to rule out ALL cosmetics animal testing by signing our petition.
Nationals of European Union member states can help us protect and strengthen the EU cosmetics animal testing bans by signing the European Citizens' Initiative.
* Poll crosstabs available upon request. Contact usa@crueltyfreeinternational.org