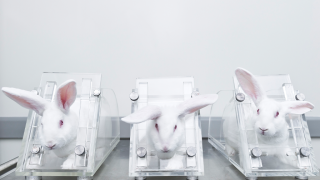 Animals left suffering and dying as a result
The Animals in Science Regulation Unit (ASRU) – the regulator overseeing the use of animals in research and testing in Great Britain – recently released its long-awaited annual reports for 2019 to 2021, which detail cases where animal users have failed to comply with the law.
The reports showed a staggering 107% increase in breaches of the law between 2018 and 2019, many of which resulted in animal suffering. Cases described in the reports include:
112 rats crushed to death in a trash compactor

860 fish dying after water drained from a tank due to failure to close the valve

Eight new-born mouse pups dying after their mother was mistakenly removed from the cage instead of their father

Five rabbits left without water for more than 45 hours

Two monkeys left without food or water for more than 16 hours

Four dogs given a substance not authorised for testing

A primate dying after being trapped behind a restraint device – an accident not noticed by staff

16 rats dying of suffocation after an isolator alarm and fan was switched off

Two rats dying due to excessive head restraint during blood sampling

Four mice dying after receiving an intravenous injection containing fragments from a pestle and mortar

A mouse dying after becoming trapped during a cage change – something that wasn't discovered for five days

A sheep undergoing surgery on the incorrect limb bone, leading to a fracture.
Every year, animals die as a result of being left without food and/or water. Failure to provide food and water accounted for 11-43% of non-compliance cases between 2019 and 2021.
The majority of cases of non-compliance are reported by the individuals or establishments themselves, with just a handful each year identified by ASRU. It is likely that there are cases that remain unreported and unidentified.
ASRU has the authority to refer cases of non-compliance for prosecution, but it chose not to take this course of action for any of the cases reported, instead issuing "letters of reprimand" – something that we believe does not adequately reflect the seriousness of these breaches.
Kerry Postlewhite, Cruelty Free International's Director of Government and Regulatory Affairs, said: "All of these cases show a lack of care for and interest in the wellbeing of animals used in laboratories. At the very least, these animals, ultimately condemned to suffer and die in experiments, deserve consideration for their welfare. We are calling on the regulator to seek justice for these animals and enforce the law properly – crushing sentient creatures in a trash compactor should result in graver consequences than a sternly worded letter."
To help us end all animal experiments in the UK, please urge your Member of Parliament to support an ambitious action plan to bring animal experiments to an end. You can use our quick and easy tool to contact them and ask them to add their signature to a motion currently tabled in parliament.