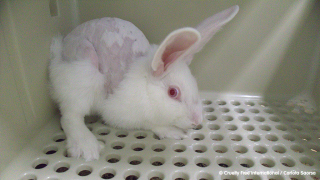 We need your help to make sure that no cosmetics are tested on animals - before it's too late!
Please sign our petition urging the UK Government to rule out ALL cosmetics animal testing.
We want to see the UK's world leading cosmetics animal testing ban upheld, but unfortunately, we know that ingredients used in cosmetics could now be tested on animals in the UK.  This could be the case even for ingredients that are used solely in cosmetics and even where they have a history of safe use.
The Government says that whilst it is not changing the country's 1998 policy ban on cosmetics animal testing, chemical safety laws – inherited from the EU – require this testing to take place. We dispute that interpretation, but also believe that Brexit should be an opportunity for the UK to be leaders in animal protection, not followers in animal testing.
Animal testing for cosmetics and their ingredients must not be allowed to take place in the UK. So once again, like we did in the 80s and 90s, we need to come together and say NO to ALL cosmetics testing on animals. Please sign and share the petition to make our collective voice as strong as possible demanding the Government act and ban cosmetics tests on animals - no excuses and no exceptions!
Our Director of Public Affairs, Kerry Postlewhite, says:
"The battle for cruelty free cosmetics should have ended in 1998 in the UK with the animal testing ban, so it is disappointing to have to be launching this petition in 2021.
"Allowing cosmetics ingredients to be tested in the UK is a devastating blow to the cosmetics ban that millions supported.
"Public opinion still strongly opposes cosmetics testing on animals. 85% of people find it unacceptable[1] and this time, cosmetics brands are united behind them. The Government must now listen carefully to what consumers and brands are telling them and make sure that no animal suffers or dies again for cosmetics in the UK."
------------------------------------------------
[1]   All figures, unless otherwise stated, are from YouGov Plc.  Total sample size was 1,765 adults. Fieldwork was undertaken between 13th - 14th September 2021.  The survey was carried out online. The figures have been weighted and are representative of all GB adults (aged 18+).