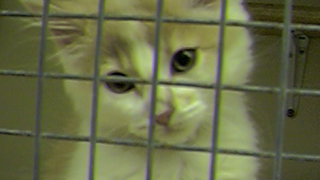 We welcome the regulator's commitment to move away from animal testing
The Veterinary Medicines Directorate (VMD) – the UK's veterinary medicines regulator – recently published a strategy detailing its objectives for the next five years. We are delighted to see that the VMD is committed to moving away from crude and cruel tests on animals, with plans to support the development and use of innovative non-animal methods for ensuring the safety and effectiveness of veterinary medicines.
Cruelty Free International scientists were involved in reviewing the draft strategy in January 2021, and we will continue to work with the VMD to help deliver its aims.
In 2020, there were over 130,000 experiments to test veterinary medicines in animals in British laboratories, including 62 experiments on cats and 104 on dogs. In these tests, animals are forced to eat or inhale substances, or have them applied to their skin or injected into their bodies. Animals can suffer from vomiting, seizures, internal bleeding, organ damage and even death. Those who survive are killed at the end of the experiment and their bodies dissected.
We applaud the VMD for recognising the importance of moving away from animal testing, not just for the sake of animals used in tests but also to improve the efficiency with which new drugs for animals are developed. Actions laid out in the strategy to achieve this goal include reviewing scientific guidelines, offering advice to drug developers and exploring opportunities for funding the development of new methods.
Dr Katy Taylor, Director of Science and Regulatory Affairs, said: "We welcome this positive strategy from the VMD. Almost two-thirds of Britons[1] want to see a binding plan in place to phase out animal testing, and this is a step in the right direction."
[1] 65%. All figures, unless otherwise stated, are from YouGov Plc.  Total sample size was 1,765 adults. Fieldwork was undertaken between 13th – 14th September 2021.  The survey was carried out online. The figures have been weighted and are representative of all GB adults (aged 18+).