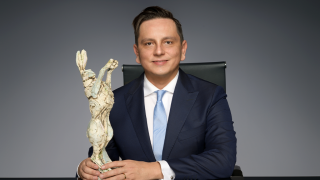 Help us end animal testing in Europe for good
Carlota Saorsa, the whistleblower whose findings of appalling treatment of animals at the Madrid contract testing facility, Vivotecnia we revealed last year, has been awarded the 2022 Lush Prize for Public Awareness, alongside Cruelty Free International lawyer, Dr Carlos Contreras.
The Public Awareness category, one of seven awards announced at the 2022 Lush Prize ceremony on Friday afternoon, rewards individuals or organisations who have brought issues related to animal testing to the attention of the broader public.
The Lush Prize, founded in 2012, is the largest prize fund in the sector, with a total fund of £250,000 shared between winners across the seven categories.
The veterinary nurse, who uses the pseudonym Carlota Saorsa, brought her findings to us so that we could present the evidence to the Spanish authorities and release the findings to the media in April 2021. The case caused international outrage and calls for the Vivotecnia facility to be closed.
It remains the subject of an ongoing legal case at which Cruelty Free International is represented by Dr Contreras.
Graphic undercover footage showed repeated bad practice in carrying out procedures, and alleged breaches of European and Spanish law governing the use of animals in scientific procedures, including.:
Deliberate acts of gratuitous cruelty towards animals, including smacking and

shaking.

Taunting and mocking animals who were stressed and suffering, including those

who were being killed or who were dying.

Killing animals in the presence of others of their kind.

Hostile lack of respect and compassion towards the animals' suffering.

Appalling techniques and bad practice which inflicted even greater suffering, including inadequate anaesthesia and poor restraint methods.
Carlota Saorsa said: "To move towards a society where the interests of animals are respected and not discriminated against, it is necessary to know the seriousness of their suffering. And our duty is to expose it."
Dr Contreras said: "These horrible events have raised awareness and have reached international media. The European Commission is working on more controls, which shows that things can be changed. We will continue to see the repercussions of this case for years to come."
Our Director of Government and Regulatory Affairs, Kerry Postlewhite, said: "Our congratulations and thanks go to both Carlota and Carlos for their bravery and commitment in exposing the abuse of animals at Vivotecnia. This was a major investigation, and its importance cannot be underestimated. It highlighted yet again the dark side of regulatory toxicity testing on animals – an horrendous mixture of suffering and cruelty.
"The revelations at Vivotecnia illustrated the chasm between the rhetoric and the reality of how animals are treated in laboratories. Since this case came to light, 1.4 million European citizens have signed a European Citizens' Initiative calling for a strategy to accelerate the transition to animal-free testing and research, a call backed by the European Parliament. It is high time this was acted upon so that we never have to see another Vivotecnia."
You can help us build on our successful ECI by emailing the European Commission to make sure that they listen to our call for an end to animal testing. Use our simple tool to email the Commission. Together, we can help achieve a Europe in which no animals suffer in laboratories.