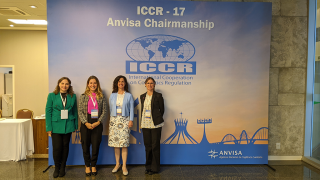 You can help us end animal testing around the world
We highlighted the global progress and challenges in ending animal testing for cosmetics, and called for a worldwide timeline for the phase-out of animal testing, as part of the annual International Cooperation on Cosmetics Regulation conference in Brasilia this week.
Our Head of Public Affairs North America, Monica Engebretson, gave a presentation on 'Uniting to End Animal Testing Worldwide – finding common ground and common cause' to an audience of regulatory authorities from Brazil, Canada, Chinese Taipei, the European Union, Israel, Japan, South Korea and the United States.
The ICCR is a voluntary group of cosmetics regulatory authorities who meet to discuss cosmetics safety and regulation, as well as work with cosmetics industry trade associations.
Monica praised the increased co-operation and collaboration within the cosmetics industry, which has driven progress in Canada and the United States and allowed us to lead calls for the protection of bans in the UK and European Union.
The proposed timeline features a mandate to use approved non-animal alternatives where they are available; and a deadline for the end of animal testing for cosmetics, which will allow industry and regulators time to adapt.
Our work in Canada, explained Monica, can create a path for progress in other countries, by reaching agreements with industry associations over safety concerns, requirements in other nations, and the testing of drugs and dual-use ingredients.
This summer we will also continue our work with the United Nations, to achieve a resolution of the General Assembly that would encourage the global replacement of animal tests for cosmetics with non-animal methods.
Monica said: "The ICCR provides a platform for discussing alternatives, and this has value, but we want to see more active involvement from participants in driving the issue forward in their home countries and regions. We hope that the conversations and information from ICCR can be taken back to decision makers around the world to assist with their own paths to phasing out animal tests.
"As Canada's Health Minister, Jean-Yves Duclos recently told us, restrictions on animal testing for cosmetics are good for industry, consumers and animals – and bring harmonised regulations which promote international trade."
Sign up for campaign alerts below to make sure you don't miss out on important news about what we are doing for animals in laboratories.