Help us ensure that scandals like LPT and Vivotecnia cannot happen again by signing to end animal testing in Europe
Reports today in the German media suggest that LPT – which earlier this year changed its name to Provivo Biosciences – may end animal experiments by January 2022.
LPT was the company at the centre of our investigation with SOKO Tierschutz in 2019 which exposed shocking levels of animal cruelty and breaches of EU and German law.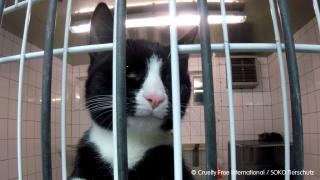 Dr Katy Taylor, our Director of Science, said: "We are heartened by news which suggests that Provivo Biosciences may soon be ending all animal testing and that animals will no longer suffer behind its doors. If this comes to pass, this is a major victory for all those involved in the investigation and for all those who have campaigned tirelessly in Germany and around Europe for animal tests to end at the facility. We hope that the change will apply to all sites run by the company.
"Whilst LPT may be moving on, the fact remains that our investigation shone a light on the cruel reality of toxicity testing on animals. We will only rest when there are no more animal tests in any laboratory in Europe and around the world."
If you're an EU national, you can help us do that right now by signing and sharing our European Citizens' Initiative to End Animal Testing.