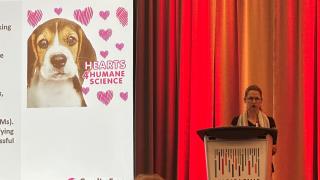 Last week, our team participated in the 12th World Congress on Alternatives and Animal Use in the Life Sciences in Niagara Falls, Canada.
Scientists from many areas, including academia, regulatory bodies, research institutes, the pharmaceutical and chemical industry, non-animal test method companies and animal protection organisations, gathered to share their experience and knowledge of using and developing non-animal test methods. Participants also discussed the ethical and scientific failings of testing on animals and the challenges in the road towards a future without animal tests.
The key themes of this year's event were "regulatory acceptance" and "next-gen education". It was acknowledged that while there has been significant progress in the development and use of non-animal test methods over the past decade, their acceptance by regulators remains limited which is stalling the replacement of animals in experiments around the world. Attendees explored different ways to overcome the barriers to regulatory acceptance, including educating the next generation of scientists to further progress animal-free research and to keep pushing for modern and human-relevant test methods.
Our information poster on our Replace Animal Tests (RAT) list, which highlights ten animal tests that are long overdue for replacement, received a lot of attention at this event.
Our Deputy Director of Science & Regulatory Affairs, Laura Rego Alvarez, explained that the total number of animals still being used in these tests could be 1.4 million in Europe alone, and discussed the main reasons why these tests persist despite having validated non-animal replacements: "Some reasons are well understood, and include: a desire to see international harmonization on the use of non-animal approaches before tests on animals are stopped; unclear regulatory requirements; a lack of monitoring and enforcement; the need for product-specific test method validation; and a lack of familiarity with non-animal test methods. Such barriers can be overcome, and these cruel tests must be stopped once and for all".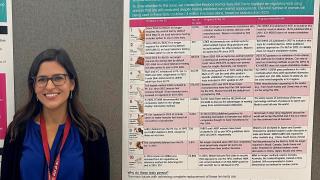 Laura also spoke about the need for a targets-based action plan to phase out all animal experiments in the EU, and the need for clear guidance on how non-animal methods can be used to support drug safety testing.
Our North America Head of Public Affairs, Monica Engebretson gave a talk about the importance of the Humane and Existing Alternatives in Research and Testing Sciences (HEARTS) Act: "The existing legal framework in the U.S. does not adequately encourage the use of non-animal methods in NIH-funded research. One reason for these failures is that existing law merely requires that researchers consider alternatives and only for procedures that induce pain. However, there is no uniform standard for what constitutes 'consideration' of alternatives. Despite available alternatives, the continued use of animals appears to be related not only to a failure to thoroughly search for non-animal methods but also because they are unfamiliar with how to utilise modern approaches so it can seem easier and more comfortable to continue to use animals. This is unacceptable and the HEARTS Act will help change this."
Monica also presented a poster about state laws governing the homing of animals released from laboratories, and the need for the Companion Animal Release from Experiments (CARE) Act that would create a nationwide law to maximize the number of dogs, cats and rabbits finding loving homes after surviving the laboratory.
Conferences like these are a fantastic opportunity to promote the use of non-animal methods within the scientific community, and to work with multi-stakeholders to overcome barriers to ending animal experiments worldwide. The next World Congress will be held in 2025 in Rio De Janeiro, Brazil.
We couldn't participate in these events without your support. Please help us continue our work against cruel and unnecessary animal testing by donating below.