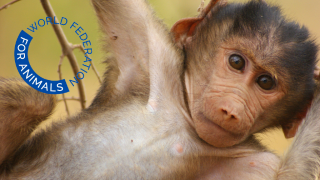 We join over 160 organisations in calling for international change
The World Federation for Animals, of which we are one the founding members, has published a new strategy to make a global impact in animal welfare by 2030.
The ambitious strategy was agreed by the WFA Board at its meeting in London today. You can read an Executive Summary on the WFA website.
It calls on the United Nations to recognise the importance of animal protection in international policies and by integrating animal protection into existing and future work on sustainable development.
The strategy demands the inclusion of animal welfare in biodiversity, climate change and pollution laws, as well as intergovernmental trade, aid, subsidy and investment policies. It also includes a new global plan for preventing pandemics.
Our CEO and WFA Board member, Michelle Thew, said: "It's essential that animals, including those who continue to suffer in laboratories around the world, have a voice on the global stage. We are delighted to work as part of the World Federation for Animals to help make this happen."
Britta Riis, President of the WFA, said: "This joint strategy is a milestone for the animal protection movement. It will help us bring about the transformative change that none of us could achieve on our own."
James Yeates, CEO of the WFA, said: "The momentum built by leading organisations, with different viewpoints, experience, scale, and scope, coming together and agreeing on a collective way forward will help us ensure that animals are, at last, considered within global policymaking."
The WFA was founded in 2019 by 19 international, national and regional animal protection organisations to work towards a broad representation of the interests of animals in international policy. Based in Boston, United States, and with consultative status at the United Nations, it now has 168 members.