Veterinary medical schools in Japan are using dogs to train students
Our 2017 investigation has uncovered the cruel use of dogs for student training by universities and veterinary medical schools in Japan. We have revealed that hundreds of dogs are bought from commercial dog suppliers by Japanese schools every year.
The dogs are used for physiology and anatomy classes and for students to practice their surgical skills. Treated as disposable learning tools, many of the dogs go through lots of unnecessary surgeries over many hours. They are cut open and stitched up by students many times, before being killed.
At one university, the dogs were kept in appalling conditions, confined alone in small metal cages. Each dog had only enough space to stand up and turn around, circling inside their small prisons.
Michelle Thew, CEO of Cruelty Free International, said: "Harming and killing dogs for the purpose of veterinary training is a cruel, unethical and outdated practice. Many leading veterinary schools no longer deliberately harm or kill dogs to train vets. There are credible and effective alternatives that can be used. We urge Japan to follow their example and end the cruel practice of using and killing live dogs for teaching and surgery practice."
WARNING video contains footage that some viewers may find upsetting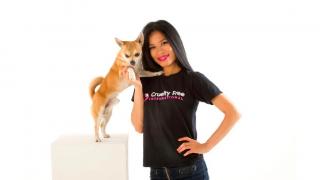 "I can't believe that so many dogs are suffering and dying in cruel veterinary training in Japan. It is unacceptable that this horrific practice is continuing, especially as there are better and more ethical alternatives available. As Cruelty Free International ambassador, I am proud to use my voice for animals. I call on the Japanese government to follow the example of many other countries around the world in banning the use of live dogs for surgical practice in universities and veterinary schools."
Vanessa-Mae, superstar violinist and Cruelty Free International global ambassador
Our investigation also found that several universities in Japan are using dogs as part of their curriculum for veterinary medicine. These include Nippon Veterinary and Life Science University, Kitasato University, Nihon University, The University of Tokyo, Gifu University and Azabu University.
This cruel and unnecessary practice has been abandoned by many universities and veterinary schools throughout the world, including in the UK, Canada and the USA. There are many humane alternatives to train veterinarians, including simulations, models and real animal patients in a clinical setting.
Find out more about our Save the dogs campaign
What happened next?
Cruelty Free International is appealing to the Japan Veterinary Medical Association (JVMA) and the sixteen Japanese universities and colleges that offer veterinary medicine to change their practice and end the deliberate harming and killing of dogs in student training.
By doing so, universities in Japan will be joining the growing number of veterinary medicine schools in other countries across the world in providing progressive and humane training to prepare students to become effective and competent veterinarians.
Please support our call by writing to the President of the JVMA:
Dr Isao Kurauchi
President
Japan Veterinary Medical Association (JVMA)
Room 2356, Shin-Aoyama Building
1-1-1, Minami-Aoyama
Minato-Ku,
107-0062 Tokyo
Japan
Email: info@nichiju