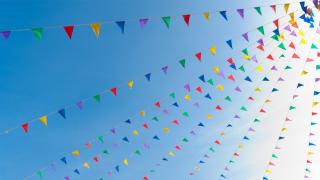 Here are some helpful resources to get you started for your fundraiser. Keep an eye on this page as we're currently updating all of our material to make sure you have everything you need to fundraise for us.
Get your free online fundraising page with JustGiving or Facebook
Setting up an online fundraising page is quick and easy and it allows your friends, family and colleagues to support you wherever they are. Keep everyone updated with your event, whether that's training, setting-up or preparations. Once you've finished fundraising, and everyone has donated to your cause, JustGiving and Facebook sends the money straight to us. Or if you don't need an online page and want to organise your activity with a hard copy sponsorship form instead, see our downloadable form link below.
Downloadable resources
Use these before, during and after your fundraising event to give it a bit of life
Legal and safety tips
We want to make sure you're as safe as you can be at your event, so here are some things to consider when organising and running your fundraising event.
Safety first
Healthy and safety of our supporters is the number one priority. If you are organising or holding an event, please ensure you read the latest government guidance on Covid-19 for England, Scotland, Wales and Northern Ireland to make sure you putting safety of your friends and family first.

Licences and Permissions
You will need a license if you intend to 1) do any street collections in a public place. You will need to contact your Local Authority to gain permission to fundraise. 2) Sell alcohol at your event. If you plan to do this, you will need an Occasional Liquor License. You do not need your own license if you're holding an event in a building that already has a licensed bar.

Photos
If you do intend to take pictures and post or send images for public use, please make sure people are aware

First Aid
Depending on the size and risk of your event, you might want to consider getting in touch with St John's Ambulance, or The British Red Cross about appropriate first aid cover for your event or at least a qualified first aider. You might need to think about;
How many people are attending the event, their ages and the risk involved in the event.

The location, and how long the event will last.

The medical facilities already in place at the venue.

How far other medical facilities are, i.e. hospitals or walk in centres.

How the weather may affect your event, and what plans are in place for bad weather.
Insurance
If your event involves the public, you might need Public Liability Insurance. Check first with the venue your using, to see if they have this already.
 
Food Hygiene
You can find all the information you need on Food Hygiene from the Food Standards Agency guidelines. If you're using a caterer you need to make sure that they have a Food Hygiene Certification and Public Liability Insurance.

Collecting and Handling Money
If you're planning to collect money in a public place, you will need a permission from your Local Authority. If you're planning to do street fundraising, or door to door collections in particular, you will need to contact them to ensure you have the appropriate license.
Make sure you
Use a secure container to keep and handle money.

Bank the money raised as soon as possible.

Have more than one person responsible for the money at all times.

If you are threatened by someone who wants to take your fundraised money, do not resist, but give the money over and call the police immediately.
If you are under 18
If you're aged under 18, you must have your parent or guardian's permission to fundraise. 

Children
Any adults looking after children at your event (other than their own) should go through the appropriate checks. Contact the Disclosure and Barring Service for more information how to go about this.

Data Protection
It's good to make sure that any information you keep about others is kept securely and complies with the Data Protection Act. You must make sure that the information is adhered to:
Is kept securely.

That you don't keep information about people you no longer need.

You don't share information about someone with third parties, without their permission.

You can find information about how we protect and use personal data in our 

privacy policy

 which is on our website.
Contact us
We'd love to hear from you about your fundraising plans, please email us at info@crueltyfreeinternational.org with your contact and fundraising details. You can also phone us on 0207 700 4888.