Cruelty Free International is urging Japan Airlines to adopt a policy to not transport monkeys destined for the research industry.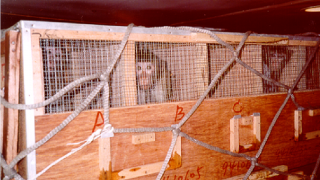 Information recently uncovered by Cruelty Free International shows that during 2014 Japan Airlines shipped monkeys from Indonesia to Clea in Japan, a company that supplies animals to laboratories.
Cruelty Free International has campaigned over many years to end the international transportation of primates for the research industry. Our hard-hitting investigations have uncovered cruelty and suffering inflicted on primates in laboratories, and during their trapping, farming and transport. Investigations carried out by Cruelty Free International in Indonesia in recent years have uncovered the shocking trade in monkeys, including the cruel capture of monkeys from the wild.
As a result, an increasing number of airlines have stopped and/or committed to not transporting primates for research. This includes nine out of the ten world's largest passenger airlines: United Airlines, Delta Air Lines, American Airlines, Emirates, Southwest Airlines, Lufthansa, British Airways, US Airways and China Southern Airlines 
Please support our call to Japan Airlines by writing polite letters urging the airline to join the growing list of airlines committed to not being involved in the cruel international trade in primates for research:  
Mr Inamori
President, Japan Airlines
JAL Building
4-11, Higashi-Shinagawa 2 Chome
Shinagawa-Ku
Tokyo 140-8637
JAPAN
Email: masaru.onishi@jal.com
Press Office: sze_hunn.yap@jal.com
Worldwide Press Office: http://www.jalpress.com/contact/
Europe: yoshiko.baba@jal.com