An important ruling in our fight for the #YorkshireBeagles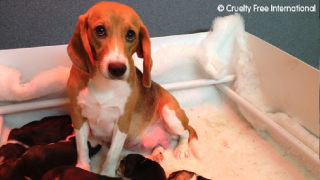 A High Court judge has granted us permission to take the Home Office to court. 
We are bringing a judicial review against the government department for its decision to allow B&K Universal Ltd (B&K) to run a beagle breeding facility in Grimston, East Yorkshire, without providing any outdoor access for the dogs.
We state that the Home Office decision violates EU law. And we believe that, if the Home Office had not given the green light to denying dogs outside runs, then the recent planning appeal by B&K may well have been rejected.
In September this year we launched a review against the Home Office for violating EU animal experiments regulations. These stipulate that animal welfare considerations must be given a high priority. And it states that dog breeding establishments are required to provide their dogs with outside access whenever possible.
The Home Office had ruled that the facility should be exempt from having to provide outdoor space.  This was because they alleged UK-wide risks render outside access unsuitable for dogs used in certain experiments.
The Home Office accepted B&K's claim that outdoor runs would contribute to a decline in the health status of dogs at the facility. They argued that exposing the dogs to a wide range of pathogens (infections) carried by wildlife, which would potentially invalidate research studies.
We believe that the Home Office has not pointed to any particular evidence of pathogen transmission to dogs around the B&K Ltd site. We argue the department has also failed to take into account measures which could eliminate most forms of transmission in outside runs. And, we say that in any event, they have not given any research which shows that the pathogens could interfere with science.
Dr Katy Taylor, Director of Science at Cruelty Free International states: "We welcome this opportunity to challenge the Home Office over a very poorly reasoned decision. The Home Office had a duty to make full enquiries to engage in rigorous science and protect the welfare of the animals, but the Department has woefully failed to do this, appearing instead to seek to facilitate B&K's planning appeal whatever the cost to the dogs."
Cruelty Free International has successfully campaigned against its previous applications to expand.  But in July, the Secretary of State for Local Government and Communities allowed its most recent appeal – causing public outcry.