This follows a Cruelty Free International campaign for animals to be released from laboratories wherever possible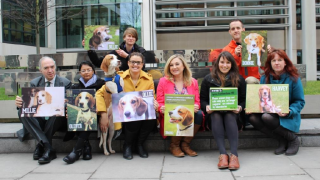 Cruelty Free International has welcomed new Home Office guidance on how laboratories can home animals who are considered suitable for a new life in a loving home.
The guidance comes following a campaign by Cruelty Free International for animals to be released from laboratories wherever possible, including the submission of a petition of over 32,000 signatures to the Home Office earlier this year. We called on the Government to issue a policy statement that the homing of cats, dogs and other animals no longer required by laboratories for research becomes mandatory and for the Home Office to issue guidance for laboratories. 
In the Home Office's own words: "In most cases animals that have been used for regulated procedures licensed in a project licence are not available for re-homing or setting free. This is because either their tissues or organs after death are needed to achieve the scientific objectives of the work (and enable the benefits of the project to be realised), or because the animal is suffering or likely to suffer and must be killed."
Every year hundreds of cats and thousands of dogs suffer and die in experiments throughout the UK, and there is currently no law protecting the dogs, cats and other animals who survive. Instead of being found homes, animals used in experiments are routinely killed, while other animals bred for research purposes but not used end up suffering the same fate. Our investigation at one UK animal laboratory (MSD Animal Health) in 2013 found that the laboratory was regularly killing dogs who could have otherwise been rehomed.
Our Science team produced a report on the success of homing dogs from laboratories and provided further advice and comments on the Home Office's draft document. Although not all our suggestions were taken into account and the policy is still a voluntary one, we are pleased to see the improved guidance which helps to clarify the process for laboratories.
Dr Katy Taylor, author of the Cruelty Free International report stated:  "In practice this guidance will only apply to a very small number of animals. However, giving as many animals a home as possible is obviously important. It is a travesty that animals, including dogs, cats, rabbits and horses, who could otherwise live a happy life in a loving home are not always  given that opportunity. We hope this guidance and the Home Office's positive statement today will encourage more laboratories to home the animals they have used."