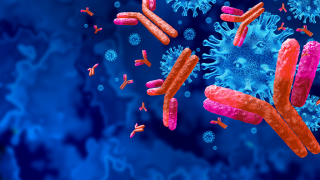 Help us to keep pressure on the government to end all animal testing
Last year, a report from the UK's Animals in Science Committee (ASC) found that animals are being used in experiments to produce antibodies without adequate scientific justification and despite the availability of animal-free production methods.
We estimate that tens of thousands of animals are used each year in the UK to produce antibodies – a cruel practice that involves injecting mice, rabbits, goats and other animals with substances that stimulate their immune systems to produce the desired antibodies before "harvesting" them by draining large quantities of blood from the animals or removing their spleens. The animals may suffer from harmful side effects and are often killed in the process. 
At the time, we wrote to the relevant authorities to highlight the ASC's report and urge them to act on its recommendations. 
Lord Sharpe of Epsom, the minister with responsibility for regulation of the use of animals in science, has now responded to the report, detailing the actions that the government intends to take to prevent animals from being used to produce antibodies where non-animal methods could be used instead. These include changes to the application process, which will require those seeking to obtain a licence to use animals for antibody production to demonstrate more robustly that they have exhausted all other options, and updates to the form used by assessors when reviewing a licence application to include stricter standards for justifying the use of animals.  
While we do not believe there is any scientific justification for using animals in this way – superior methods of producing antibodies that do not use animals have been available for many years, as we highlight on our Replace Animal Tests (RAT) list – we welcome the government's plans as a step towards a future where all antibody production is animal-free. 
Lord Sharpe's letter also discusses longer term plans intended to prevent animal tests taking place where non-animal replacements could be used instead – something that a recent report from the UK's government-sponsored National Centre for the 3Rs found is sorely needed. These plans could include reviewing the need for those applying to test on animals to demonstrate they have searched robustly for non-animal replacements. 
Dr Sam Saunders, our UK Science Programme Manager, said: "It's shocking that any animals are still being used to produce antibodies. The government's plans are a step in the right direction and we will continue to hold the government to account and make sure they follow through on their promises."
Sign up for campaign alerts below to make sure you don't miss out on important news about what we are doing for animals in laboratories.