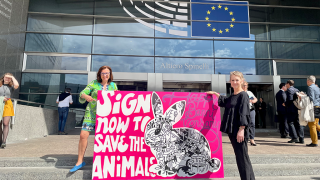 Recognised for outstanding commitment to animals in laboratories in Europe
Our Parliamentarian of the Month for May is Tilly Metz, Green Member of the European Parliament for Luxembourg, and chair of the Parliament's Animals in Science Working Group. And this month, instead of our usual certificate, we were delighted to present Tilly with our Save Cruelty Free Cosmetics painting. 
The painting was created by an artist from Graffiti Paris on the anniversary of the European Union's cosmetics animal testing ban, an anniversary that we were unable to celebrate this year because it is being undermined by the extent of animal testing on commonly used cosmetics ingredients.  
Our Director of Government & Regulatory Affairs, Kerry Postlewhite, said: "I'm thrilled to be able to present this award to Tilly in recognition of the incredible work she does to help achieve the day when no more animals suffer in laboratories in Europe and around the world. She is engaged tirelessly in the European Parliament and outside in persuading people of the urgent need for change. Handing this amazing picture over to Tilly and her team is our chance to say a huge thank you." 
Ms Metz said: "I was truly touched by this kind gesture, the Banniversary artwork is brilliant. It's a creative and capturing way to raise awareness of the important issue of animal testing. Saving the ban on animal testing for cosmetics ingredients is crucial for the animals and for consumers, but also to keep the EU on track to a phase-out of the use of animals in science." 
If you live in the European Union, you have the power to demand an end to animal experiments by signing the European Citizens' Initiative today. If you have already signed, please share with family and friends to help end animal suffering.