People in Mauritius gather to raise awareness about the export of their monkeys for research
Cruelty Free International representative, Anand Nithoo, has hosted a music event in Mauritius in support of the Save Our Monkeys campaign.  The campaign aims to end the controversial trade in monkeys from Mauritius to supply laboratories around the world.
Anand said, "This event was organised to raise awareness of a shameful trade, which unfortunately is taking place on our paradise island. While on the one hand the authorities are looking at attracting more tourists to Mauritius, they do not seem concerned about the impact the monkey trade is having on our reputation overseas."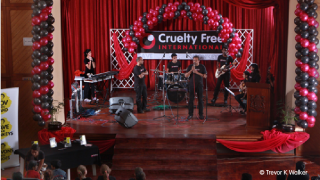 At the event, young artists from Ebanez Music and others performed live to an enthusiastic audience. Anand spoke about the trade in monkeys from Mauritius which shrouds the island in controversy.
Every year over 8,000 monkeys are exported from the island, many born to monkeys who were captured in the wild and imprisoned inside breeding farms. These infants are destined for laboratories where they will face a lifetime of suffering at the hands of the research industry.
The campaign has received worldwide media and public attention with concern also expressed from within Mauritius. To date, over 26,000 people have signed our petition calling on the Minister of Tourism to stop the suffering inflicted on the monkeys of Mauritius.
We're asking the Mauritius government to listen to the concern that exists within Mauritius, as expressed by events such as this, and adopt a progressive policy of ending the breeding and export of monkeys.