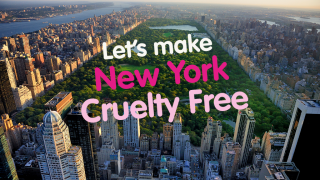 Ask Governor Hochul to sign the bill
In May we celebrated the passage with overwhelming support of the New York Cruelty Free Cosmetics Act by the state legislature. However, one final step remains before we can declare New York the 10th cruelty free cosmetics zone in the U.S.: the bill must be signed by the Governor.  
In New York, bills are called for review in batches before being delivered to the Governor for final consideration. We know the Governor has lots of bills to review, and many priorities to consider, but we don't want cruelty free cosmetics to be forgotten. If you live in New York, you can help by asking Governor Hochul to sign the bill and end the sale of new animal tested cosmetics in the state! 
We know that this issue is important to New Yorkers. Results of a February 2022 poll of New York State-registered voters conducted by the Siena College Research Institute show that they are against animal testing for cosmetics and prefer to buy cosmetics not tested on animals. The poll indicated that voters are supportive of a law that would prohibit the sale of new animal-tested cosmetics in the state and revealed that there is broad agreement on this issue across political affiliation, religion, ethnicity, age, and income. * 
Earlier this year we helped save state cruelty free cosmetics laws but the opportunity to translate them into a federal law was missed when cosmetics language in the Senate's FDA Safety and Landmark Advancements (FDASLA) Act was completely removed instead of being amended. Now more than ever, ensuring that New York takes a stand against new animal testing for cosmetics is key to getting a national law over the finish line.   
You can help by sending an email respectfully asking Governor Hochul to sign the New York Cruelty Free Cosmetics Act into law – or use our quick tool to send her an email. Alternatively, make a polite telephone call to 1-518-474-8390. 
If you are not a New York resident but live in the United States, you can also help, by taking action to support the federal Humane Cosmetics Act. 
If you live in the UK, please urge the UK Government to rule out ALL cosmetics animal testing by signing our petition. 
* Poll crosstabs available upon request. Contact usa@crueltyfreeinternational.org.