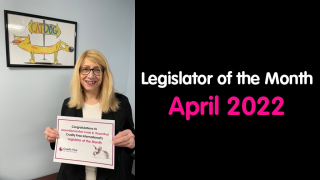 Assemblymember Linda B. Rosenthal receives recognition for her work to make New York cruelty free
Each month, we nominate a legislator or parliamentarian to celebrate the work they do for animals in laboratories. This month, our award goes to Assemblymember Linda B. Rosenthal for her work to end animal testing for cosmetics in New York.
Assemblymember Rosenthal has a long history of championing animal protection legislation, including working to end animal testing for cosmetics.
In 2008, her mandated alternative bill made New York one of only four states to outlaw the use of animal experiments when an appropriate validated alternative method is available. In 2016, she was the first legislator to work with us to introduce a state-level bill to end the sale of new animal tested cosmetics. Now her persistence is paying off and the New York Cruelty Free Cosmetics Act is advancing through the state legislature with tremendous support.
Results of a February 2022 poll of New York State-registered voters conducted by the Siena College Research Institute show that New Yorkers are against using animal testing to develop cosmetics and would prefer to buy cosmetics not tested on animals. The poll indicated that voters are supportive of a law that would prohibit the sale of newly animal-tested cosmetics in the state and revealed that there is broad agreement on this issue across political affiliation, region, ethnicity, age, and income.*
If passed, the New York Cruelty Free Cosmetics Act would see the state join California, Nevada, Illinois, Hawaii, Maryland, Virginia, New Jersey, and Maine in prohibiting the sale of cosmetics tested on animals.
Monica Engebretson, our North America Campaign Manager, said, "We are so pleased to award Assemblymember Rosenthal our Legislator of the Month for her leadership to make New York a cruelty free cosmetics zone. Because of New York's association with the fashion and beauty industries, passing the New York Cruelty Free Cosmetics Act could be the tipping point that leads to a nationwide ban."
If you live in New York, you can help by using our quick tool to urge your state Assemblymember and state Senator to support the New York Cruelty Free Cosmetics Act.
If you are not a New York resident, please take action to support the federal Humane Cosmetics Act.
* Poll crosstabs available upon request.