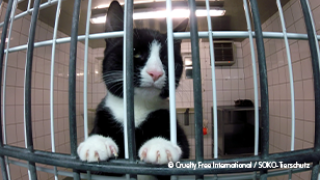 Sign the pledge – and ask your MP to support our campaign
Today we launch our new 'Pledge Cruelty Free' campaign to kick animal testing out of our homes – and secure a commitment to end animal testing from MPs in the build-up to the 2024 General Election.
You can sign the pledge yourself, share your support on social media, and email your own MP to ask them to take the pledge themselves. By taking these simple actions you can help us to show politicians that there is a groundswell of support to include policies to bring about an end to animal testing in election manifestos.
There are three elements to the pledge, which you can take by visiting our new Pledge Cruelty Free campaign page, to support policies to:
Strengthen the ban – strengthen the cosmetics testing ban by putting the full 1998 ban on animal testing for cosmetics ingredients, covering ingredients used both predominantly and exclusively in cosmetics, into law, so that no government can reverse it in secret

Make our homes safer

– modernise the testing of chemicals that go into the products we use every day, like the plastics in our gadgets, the dyes in our clothes and furniture, and the paints on our walls. Animal testing surrounds us in our own homes but if we invest in innovative non-animal methods we can kick it out of our homes for good

 

Deliver a government-led plan

– target zero animal tests, and appoint a minister dedicated to delivering this plan, with specific dates and achievable milestones
Following legal and public pressure the government partially reintroduced the ban on testing cosmetics on animals in May 2023, but the new approach only covers roughly 20% of cosmetics ingredients. This does not go far enough. Crucially, as this is only policy and not law there is not guarantee that future governments won't weaken the ban even further. The government must restore UK leadership in this area by reinstating the full 1998 ban covering ingredients used both predominantly and exclusively in cosmetics, into law.
Chemicals can be found in many other products in our homes, not just cosmetics: plastics, fabrics, paints, medicines, fuels and many more. The system for making sure those chemicals are safe is stuck in the past and based on rules that rely on animal suffering. Fortunately, innovative non-animal technologies can be more effective and cheaper. The government must lead the way by setting out concrete steps to build a modern, cruelty-free system for chemicals' safety, which takes full advantage of these opportunities.
Currently there is nothing in law or policy to hasten an end to testing on animals. The government takes a passive approach, but we need proactive policies and new laws to bring about the ultimate target of zero tests on animals, reaping the benefits of a more modern system sooner rather than later. The government must deliver an ambitious plan describing how all uses of animals in science will be ended, giving clear milestones, achievable targets, and a government minister dedicated to delivery.
Our UK Head of Public Affairs, Dylan Underhill, says: "Animal testing touches our lives in many ways that most of us don't appreciate. It is present in almost every aspect of our lives whether we like it or not, from cosmetics and household products to clothes, furniture, plastics, electronic and white goods, paints, dyes, and food additives. To stop millions of animals being used in needless and painful tests every year, we need progress and compassion, not the same old status quo. More can and should be done to make our homes and our lives truly cruelty free, especially when modern innovations in non-animal methods can produce better results, potentially saving lives and resources.
"In secretly rolling back the cosmetics testing ban in the way it did, and then reinstating it to only cover approximately 20% of all ingredients used in cosmetics, the government has shown how little it cares about the opportunities that are in front of us. We need your help to tell the government that this isn't good enough. All MPs need to know the strength of feeling on this issue so that current and future governments will make the right choices for the benefit of the people of the UK and the animals we all care so much about."
To make your cruelty free pledge and find out other ways you can help end animal testing in the UK, visit our Pledge Cruelty Free campaign page.