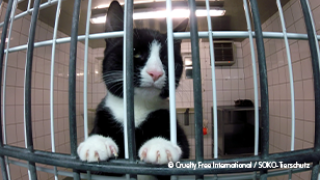 Support a cruelty free UK
Many of the everyday items in your home have been tested on animals at some point on their way to being made and marketed. These tests are aimed at understanding effects on human health and on the environment but are often unreliable and cause much suffering to the animals used. Fortunately, there are more and more non-animal test methods available that are often equally, or more effective, than tests on animals. Not enough is being done to make sure that cruelty free techniques are available and used for testing associated with the products we use and consume every day.
We shouldn't have to put up with having products linked to testing on animals in our homes – if we act together, we can create a cruelty free future. We need new laws and policies to phase out testing on animals. With a general election on the horizon, it's more important than ever that MPs know we want to kick testing on animals out of our homes and out of our lives for good. Join us in pledging your support for policies that can make that future a reality.
I pledge to help kick testing on animals out of our homes by supporting policies to:
1. Strengthen the ban – Strengthen the cosmetics testing ban by putting the full 1998 ban on animal testing for cosmetics ingredients into law, so that no government can reverse it in secret
In 2023 the UK government admitted that in 2019 it had secretly abandoned the cosmetics ingredients testing ban which had been in place since 1998. Following legal pressure from a Judicial Review initiated by Cruelty Free International, and the resulting public pressure, the government somewhat reversed their position and announced a partial reinstatement of the ban, but with only roughly 20% of cosmetics ingredients covered the UK government have not gone far enough. What's more, as this is just policy not law there is no protection against future governments undermining the ban even further. 
The government must restore UK leadership in this area by putting the 1998 ban, covering ingredients used both predominantly and exclusively in cosmetics, into law.  
2. Make our homes safer – Modernise the testing of chemicals linked to products we use every day
Chemicals are used to make the products we have in our homes, which means that testing on animals is present in our homes too. The system for making sure those chemicals are safe is based on rules that cause animal suffering. Fortunately, innovative non-animal approaches for testing chemicals can be more effective, but more needs to be done by the government, through funding and changes to regulations, to make sure that those cruelty free techniques are readily available, and that the system is ready to embrace them.  
The government must lead the way by setting out concrete steps to build a modern, cruelty free system for assuring chemicals safety.
3. Deliver a government-led plan to target zero tests on animals – with a Minister dedicated to delivery across government
There is nothing currently in law or policy to purposefully hasten an end to testing on animals, which means that progress is not guaranteed and any we do see is glacial. Based on the barely noticeable decrease in testing on animals observed in recent years, animal experiments are projected to continue for at least the next 90 or so years. The government takes a passive approach, but we need proactive policies and new laws to bring about the ultimate target of zero tests on animals, reaping the benefits of a more modern system sooner rather than later.
The government must deliver an ambitious plan describing how all uses of animals in science will be phased out; with clear milestones, achievable targets, and a government minister dedicated to delivery.  
Other ways you can show your support
There are even more ways you can get us closer to a cruelty free UK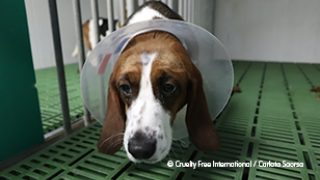 Make a donation to help us reach even further with our campaign against animal testing.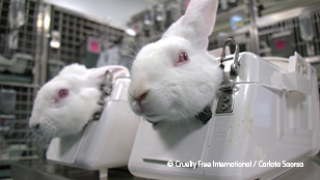 Use our quick and easy tool to contact your MP today and ask them to pledge to help kick animal testing out of our homes.