Re-homing plan could lead to thousands of animal deaths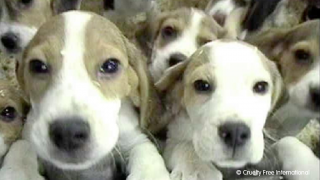 The UK Government's new 'rehoming' strategy for animals used in UK laboratories includes sending animals to slaughter or to overseas laboratories for further experiments.

An official document released by the Home Office, called "Homing and setting free of animals", sets out five possible options for the animals.  This includes:
         sending the animals to be slaughtered
         passing them to a zoo
         handing them over to an unlicensed establishment for observation
         or shipping them overseas to a foreign laboratory
Dr Nick Palmer, Director of Policy at Cruelty Free International, said, "To say that 're-homing' includes slaughter or further experiments in an overseas laboratory is cruel to the animals, misleading to the public and an Orwellian abuse of the English language. A laboratory will now be able to claim that it has 're-homed' an animal after an experiment if they have merely got the individual off their premises – perhaps to be shipped overseas to undergo further experiments or to be killed."
Cruelty Free International is opposed to the use of animals in experiments.  But we also believe that steps can be made to change the lives of individual animals in laboratories.  We are calling for mandatory, genuine homing wherever possible of all animals. 
For further information, please read our coverage in the Express and the Huffington Post.