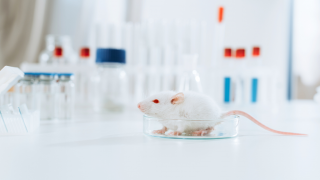 Animal experiments increase while USDA transparency decreases
Animal testing in the United States of America increased by 6% in 2021, with a total of 712,683 animals used in experiments according to our analysis of figures released by the U.S. Department of Agriculture (USDA).
This includes 12,595 cats, 71,921 monkeys, and 44,847 dogs.
Some of this increase could be attributed to lowered laboratory activity in 2020 due to the COVID-19 pandemic. However, we had still hoped to see an overall decrease in animal use amidst rising public demand for humane science and ongoing progress being made in the development of non-animal testing methods.
The figures also reveal that 70,161 animals (10% of those tested on in the U.S. in 2021) were used in 'Category E' experiments in which no relief is provided for animals experiencing pain or distress. The most frequent victims of these painful experiments are hamsters and guinea pigs, but in 2021, 2,583 rabbits, 1,621 monkeys and 360 dogs were also subjected to 'Category E' tests.
The USDA figures do not include mice, rats, fish or birds, despite these animals being the most commonly used animals in experiments. As a result, the true number of animals suffering in US laboratories is expected to be far higher. We estimate the number to be at least 14 million.
The USDA has recently changed the way it publicly provides animal use data, so that it is no longer easy to compare pain categories and animal use across states or to compare the data with past years. The USDA has not provided an explanation for this new and more opaque system of providing this public information, despite our repeated requests.  We fear that this is just another example of the agency putting the interests of experimenters over the welfare of animals it is charged with protecting, and over the interests of the public it is supposed to serve.
Monica Engebretson, our Head of Public Affairs North America, said, "We are appalled by the unacceptable number of animals suffering in U.S. laboratories and by the USDA's lack of transparency in what appears to be a growing lack of accountability to the public and the animals. The U.S.'s 2021 numbers show that far more needs to be done to end the cruel use of animals in research and testing, and the urgent need for legislation like the HEARTS Act that will prioritize the use and development of non-animal testing methods and increase accountability for animals used in tax-payer funded research".
If you live in the US, you can help by asking your Representative to become a co-sponsor of the HEARTS Act.