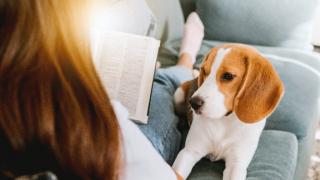 The CARE Act will place survivors of laboratory experiments into loving homes
This week, Congressman Tony Cárdenas (CA-29) re-introduced the Companion Animal Release from Experiments (CARE Act). The bill (HR 5726) would ensure that research facilities across the entire United States in receipt of funding from the National Institutes of Health develop and implement adoption policies for dogs, cats and rabbits no longer used for research.
"It's simple: if a research facility uses pets for research, then they must work to find them homes," said Congressman Cárdenas. "We experiment on over 200,000 dogs, cats, and rabbits each year. The least we can do is give these living beings a chance at life in a loving home. My bill requires research facilities funded by the NIH to develop adoption policies for those animals. This is part of a larger effort to move away from animal-based testing and research wherever possible and toward more humane and sound scientific research."
Approximately 60,000 dogs, 18,000 cats and 140,000 rabbits are used in experiments in the US every year.[1] While many of these animals die during the experiment or are deliberately killed so that their tissues can be examined as part of the protocol, some do survive and could be homed. Additionally, some animals are held in institutions for breeding, and some may be born and never used at all and eventually considered "surplus" to the laboratory.  Both survivors and surplus animals may be killed and discarded if they are considered no longer useful to the laboratory, even if they could be released for adoption into loving homes.
Studies show that animals formerly used in laboratories often thrive when adopted into homes,[2] [3]and people who have taken in animals released by laboratories all speak of the joy and sense of satisfaction that giving a loving home to these often damaged and sensitive animals brings. A recent survey revealed that 92% of those who adopted a dog from a laboratory said they would do it again.[4] 
"The Care Act has the potential to save hundreds of animals' lives by requiring that laboratories across the U.S. that receive public funding have adoption policies in place for dogs, cats and rabbits who are no longer wanted, stated Monica Engebretson of Cruelty Free International, "Organizations across the US are eager to help, and families are excited to provide homes for these laboratory survivors."
In the past eight years (2013-2021) thirteen states have enacted laws governing the post-research placement for dogs and cats - California, Connecticut, Delaware, Illinois, Maryland, Minnesota, Nevada, New Jersey, New York, Oregon, Rhode Island, Virginia, and Washington.  But it's not enough for the homing of animals to take place on a state-by-state basis, a nationwide law is needed to ensure that research institutions everywhere that receive taxpayer funding establish transparent policies for giving laboratory survivors a chance at a happy life. The passage of the CARE Act will achieve this goal.
You can help by asking your US Representative to become a cosponsor of the CARE Act and by promoting the bill on social media using the hashtag #SendSurvivorsHome. You can also show your support with our campaign T-shirts and hoodies
Sources:
[1]USDA Research Facility Annual Summary and Archive Reports Available at : https://www.aphis.usda.gov/aphis/ourfocus/animalwelfare/sa_obtain_research_facility_annual_report/ct_research_facility_annual_summary_reports
[2]Döring D, Nick O, Bauer A, Küchenhoff H, Erhard MH. How do rehomed laboratory beagles behave in everyday situations? Results from an observational test and a survey of new owners. PLoS One. 2017 Jul 25;12(7):e0181303. doi: 10.1371/journal.pone.0181303. PMID: 28742824; PMCID: PMC5526562. 
[3] DiGangi BA, Crawford PC, Levy JK. Outcome of cats adopted from a biomedical research program. J Appl Anim Welf Sci. 2006;9(2):143-63. doi: 10.1207/s15327604jaws0902_4. PMID: 16956318.
[4] Döring D, Nick O, Bauer A, Küchenhoff H, Erhard MH. Behavior of laboratory dogs before and after rehoming in private homes. ALTEX. 2017;34(1):133-147. doi: 10.14573/altex.1608171. Epub 2016 Oct 11. PMID: 27725989.