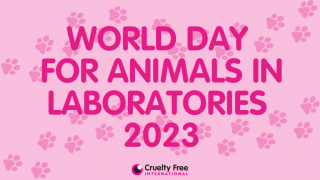 Support our campaigns – wherever you are
Millions of animals continue to suffer and die in laboratories across the world every year – and on World Day for Animals in Laboratories we renew our global efforts to end these cruel and unreliable tests.
Whether it's asking your local politician to support new legislation, making a donation to boost our campaigns, finding your new favourite Leaping Bunny approved brand, signing up to be the first to hear about our latest campaigns, or looking good with a t-shirt, tote bag or print, YOU can help us end animal testing.
We estimate that at least 192.1 million animals were used for scientific purposes worldwide in 2015. This is the world's most reliable figure to date – and includes an estimated 207,724 tests using dogs and 158,780 tests using monkeys.
More recent figures show:
3.06 million procedures on animals were conducted in the UK in 2021 – one quarter of which caused moderate or severe suffering to the animals involved;

7.3 million uses of animals in laboratories in EU countries in 2020 – 46% of which caused moderate or severe suffering

81% of tests in the EU in 2020 were voluntary and not required by law

Uses of horses rose 74%, hamsters 69% and cats 11% in the EU in 2020

712,683 animals used in experiments in the USA in 2021 – but we estimate the true number, including mice, rats, fish and birds, to be at least 14 million per year
Our 'Save Cruelty Free Cosmetics / End Animal Testing' European Citizens' Initiative, which was signed by over 1.2 million people, will continue its journey through the European Parliament before the European Commission issues its final statement, including any action to be taken in response to our demands, in July. You can still help us build on the ECI by emailing the Commission and calling on them to support the transition to animal-free science.
We continue to await the ruling in our Judicial Review of the Home Office's policy on animal testing, which challenged the Home Office's decision to abandon the 1998 ban on testing cosmetics on animals. In its August 2021 letter to us, the Home Office admitted that it now allows animal testing for cosmetics in the UK, even where chemicals are used exclusively as cosmetics ingredients. Join our Target Zero UK campaign which calls for an ambitious government-led strategy to end experiments on animals with a government minister solely dedicated to leading the fast transition to animal-free science. Can you be a Target Zero Hero?
Our United States of America supporters can give their HEARTS to animals by asking their Representative to support the Humane and Existing Alternatives in Research and Testing Sciences (HEARTS) Act, which will prioritise and incentivise the use and development of humane and effective alternatives to animals in National Institutes of Health-funded research projects. It also creates a dedicated centre within the NIH devoted to advancing new alternative methods and developing a plan for reducing the use of animals in federal funded research.
After a decade-long campaign, the time has finally come for a cruelty-free Canada, through the Budget Implementation Act which was introduced last week and will prohibit testing cosmetics on animals.
Our Leaping Bunny Programme, the globally-recognised gold standard for cruelty-free products, has now approved over 450 brands covering cosmetics, personal care, household, cleaning and companion animal products. The Leaping Bunny is the best assurance that a company has made a genuine commitment to help end animal testing, with rigorous criteria which apply globally and extends over and above laws governing animal testing. Use our search page to find all Leaping Bunny-approved brands.
We couldn't fund our work for animals without you. Your donation can help us lobby governments to protect animals; research non-animal testing alternatives and ensure they are used as widely as possible; or even put undercover investigators into laboratories to expose animal suffering. As well as a one-off or regular donation, you can become a fundraiser yourself through events or personal challenges, or leave a legacy gift either in your will or in memory of a loved one.
If you do not yet receive our regular email updates, sign-up to be among the first to get details of our latest appeals, campaigns and news on how you can support us to end animal research around the world!
You can look good and do good with our great range of merchandise, featuring t-shirts, hoodies and sweaters for all ages, tote bags, prints and even stickers – great ideas for gifts or just to treat yourself.
For a full list of the ways that YOU can help end animal testing around the globe, visit our World Day for Animals in Laboratories page below.
Together, we can help achieve a world in which no animals suffer in laboratories.
SMALL STEPS TO A CRUELTY FREE WORLD
Take action from our cruelty free checklist below and help us work towards a world where no animal has to suffer in a laboratory.