We're calling company HQ to explain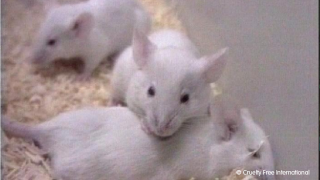 We have challenged the food giant Yakult over its use of animals to test foods, even though they are already on the market and copious human experience is available.
Yakult UK has responded that no animal testing takes place or ever would take place in Britain. 
But, the company has admitted that such research is done in Japan.
In August, we revealed that some of the world's leading food giants were carrying out cruel tests on dogs, mice, hamsters, rats and pigs in order to market health food claims for products.
Yakult carried out tests on five-week-old hairless mice to see if consuming probiotics can protect skin from ageing. The mice were force-fed probiotic bacteria before being irradiated with ultraviolet light from lamps.
This procedure was repeated for 12 weeks with the dose of radiation increasing weekly for the first four weeks. The mice developed deep wrinkles and signs of photo ageing. They were then killed so that their skin could be removed and examined.
We have now called on the Japanese headquarters of Yakult to explain the reason for these cruel animal tests.  And our Japanese partners are raising the issue with decision makers in Japan.
Michelle Thew, Chief Executive Officer at Cruelty Free International stated: "There is growing public concern regarding the use of animals to test everyday consumer products.  We think the public will be shocked to learn that a well-known and familiar high street brand such as Yakult is involved in sickening experiments on animals. We urge Yakult to reconsider its policy."