With a history spanning over 100 years, Cruelty Free International has achieved so much for animals in laboratories.
Bringing the issue to public attention with our dynamic and determined approach, we have inspired generations of politicians, decision-makers and compassionate people to make a difference for animals used in experiments. As the problem has grown, we have stepped up to meet the challenge across the world, placing the issue on the global agenda for the first time.

We have saved many thousands of animals from a life of suffering in laboratories, and together we can do so much more.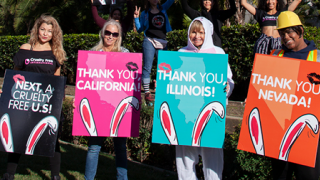 Campaigning to end cruel cosmetics
Some of our recent key achievements
Together with our partners, The Body Shop, we put the issue of animal testing in cosmetics on the global agenda in 2018, bringing the issue to the attention of decision-makers around the world with our Forever Against Animal Testing petition signed by over eight million people
---
Working closely with Members of the European Parliament, Cruelty Free Europe (our European sister organisation) and other animal protection organisations… we championed a vote in September 2021 to end animal testing and research in the European Union. Only four MEPs opposed the resolution, which asks for an ambitious action plan to phase out animal experiments.
---
US states California, Illinois, Nevada, Virginia, Maryland and Hawaii now have cruelty free cosmetics laws backed by Cruelty Free International.
---
Following 20 years of tireless campaigning by Cruelty Free International, the European Union banned cosmetics testing on animals. We are building on this momentum around the world and leading efforts to now protect and strengthen the prohibitions in Europe.
---
We were instrumental in exposing the international supply of non-human primates for the research industry. In 1991, we launched the first ever in-depth investigation of the trade in monkeys for research, revealing the cruelties inherent in the trade in wild animals and leading to country trade restrictions and government bans on the use of monkeys taken from the wild.
---
In 1996, we launched the Leaping Bunny programme. Symbolised by the Leaping Bunny logo, our world-leading programme is working hard to turn shopping malls cruelty free with more and more leading household names gaining Leaping Bunny approval for their cosmetics, personal care and household products.
---
Our campaign to stop airlines transporting monkeys for research has resulted in most of the world's major airlines refusing to participate in this cruel trade.
---
Following our joint investigation with SOKO Tierschutz of the LPT contract testing laboratory in Mienenbuettel, Germany, the facilities will all be closing in early 2022.
---
Our chemicals testing campaign achieved many positive measures to minimise the use of animal testing for Europe's chemical testing legislation, known as REACH.  It has potentially saved hundreds of thousands of animals from cruel chemicals testing and the tireless work of our science team challenging animal testing decisions by the European Chemicals Agency continues to spare more animals suffering in toxicity tests.
---
Following our investigation into experiments on wild baboons in Kenya, Newcastle University in the UK announced that it would stop its involvement in these controversial experiments. Our harrowing footage revealed researchers from the university bypassing UK law (which banned the use of wild-caught monkeys in research in 1995) and travelling to Kenya to use baboons taken from the wild.
---
Our undercover investigation at Wickham Laboratories exposed the appalling suffering inflicted on hundreds of thousands of mice for the worldwide botox craze. Manufacturers of botox have now developed animal-free methods to replace these cruel animal tests, and we continue to work to ensure that their use is enforced.
---
We won the prestigious Sustainability Pioneer category of the Sustainable Beauty Awards in 2014 for our work to ban cruel cosmetics in Europe. The award requires evidence of a positive social, economic and environmental impact and a significant contribution to sustainable development in the beauty industry.
---
Our Leaping Bunny pilot programme in China helped contribute to ongoing changes in the country and developed a cruelty free route to market for our brands so that Chinese consumers are also able to choose cruelty free.