Senator Jennifer Boysko and Delegate Kaye Kory receive recognition for making Virginia Cruelty Free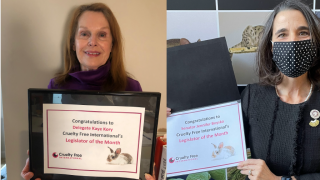 Each month, we nominate a legislator as Legislator of the Month to celebrate the work these individuals do for animals. This month, our award goes to both Senator Boysko and Delegate Kory for their work to end animal testing for cosmetics in Virginia.
Senator Boysko and Delegate Kory both have long histories of championing animal protection legislation and both legislators worked over several years to successfully pass the Virginia Humane Cosmetics Act. Their persistence paid off. Because of their efforts, Virginia recently became the 4th state in the US to prohibit the sale of new animal tested cosmetics.
Virginia joins  California, Nevada, and Illinois in ending the sale of newly animal-tested cosmetics, and serves as inspiration for other states including Maryland, Hawaii, and New York where similar bills have been under consideration. Moreover, the new law will add momentum for passing the federal Humane Cosmetics Act which will be reintroduced soon.
Monica Engebretson, our North America Campaign Manager, said: "We are so pleased to award Senator Boysko and Delegate Kory our Legislators of the Month, for their leadership over several years to make Virginia a cruelty free cosmetics zone.
"The support and enthusiasm for the Virginia Humane Cosmetics Act also sends an important signal that it's time for national action on this issue and time for the US to catch up with modern science, consumer expectation, and progress in other countries by ending the animal testing for cosmetics nationwide."
We are thankful to Senator Boysko and Delegate Kory for their humane leadership.