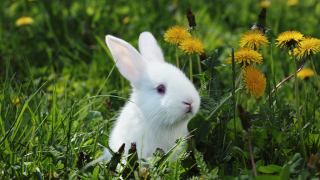 After a decade of advocacy our work for a Cruelty Free Canada is within reach.
The Canadian government yesterday tabled measures through the Budget Implementation Act that will prohibit testing cosmetics on animals in Canada. The measures will also prohibit selling cosmetics that rely on new animal testing data to establish the product's safety, and the use of false or misleading labelling pertaining to the testing of cosmetics on animals.
Monica Engebretson, our Head of Public Affairs for North America, said: "Cruelty Free International applauds this renewed effort to bring an end to animal testing for cosmetics across Canada. This is a unifying issue that has earned cross-party support in Canada and will match the progress we are seeing around the world as consumers, companies, regulators, and advocates come together to achieve a common goal of ensuring that animals won't suffer for the sake of cosmetics anywhere."
We were joined in celebrating this historic move with our campaign partner The Body Shop as well as Cosmetics Alliance Canada, Humane Society International/Canada, Animal Alliance Canada, and Lush Cosmetics.
Hilary Lloyd, VP of Marketing and Corporate Responsibility, The Body Shop North America, said: "The Body Shop applauds Minister Duclos and Health Canada for their work in bringing forth this legislation. As a leader in cruelty-free beauty, we're celebrating this milestone and reflecting on the passionate hard work from our retail teams and activist customers that delivered over 625,000 signatures to Parliament Hill in 2018 asking to end cosmetic animal testing. An important reminder that businesses have a responsibility in being a force for good. We encourage other governments around the world to follow suit."
Darren Praznik, President and CEO of Cosmetics Alliance Canada, said: "Industry and animal protection advocates have worked together over the last several years to advance a cosmetics animal testing ban in Canada. Since this issue was first raised in Parliament through a Private Member's Bill in the Senate in 2015, our group has met frequently to build a collaborative relationship and to align on the principles with Health Canada while ensuring the ban works within the Canadian regulatory framework. We are very pleased to see the government bring forward this long overdue legislation."
This cruelty free legislation is set to pass this summer. Thank you to everyone who has signed our petitions and contacted your MP over the past decade to help achieve this milestone.
Prepare to celebrate by purchasing our bespoke 'Cruelty Free Forever" merch in our online store - and if you haven't yet signed up for regular email updates on this and our other worldwide campaigns, join us now below.
Below is a summary of our long fight for a cruelty free Canada.
2013: We reach out to the Minister of Health of Canada to open dialog about matching global progress in enacting cruelty free cosmetics laws and regulations.
2014: Together with The Body Shop, we call on the Canadian Government to ban animal testing for cosmetic purposes and deliver a petition of one million signatures from customers and supporters worldwide to Parliament Hill.
2015: Cruelty Free International welcomes the introduction of the Canada Cruelty Free Cosmetics Act by Senator Carolyn Stewart-Olsen.
2017: Together with our friends at The Body Shop, we launched our Forever Against Animal Testing campaign, working towards a global end to animal tested cosmetics. Petitions are in stores across Canada and around the world.
2018: With The Body Shop Canada, we host a rally on Parliament Hill joined by MPs from all political parties and hand in the largest petition delivered to Parliament in over 70 years, with over 630,000 Canadian signatures supporting a ban on cosmetics animal testing.
2019: We intensify our work with stakeholders and meet again with the office of the Minister of Health in support of Bill S-214 (Cruelty-Free Cosmetics Act). 
2020: We release the results of our new poll revealing that an overwhelming 88% of Canadians would support a federal law to end cosmetics tests on animals.
2021: Following our ongoing work, we applaud both the Liberal and Conservative parties of Canada for including ending animal testing for cosmetics in their official party platforms.
2022: Our team continues to work closely with a cross-section of partners and our Canadian supporters to encourage the introduction of a government-sponsored cruelty free cosmetics bill.
2023: Victory! The Canadian government commitments to a ban by including measures in its 2023 Budget Implementation Act.