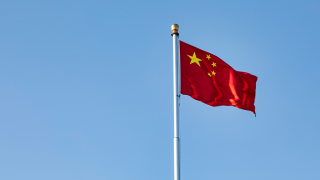 More cruelty free brands able to enter China
Companies approved by the Cruelty Free International Leaping Bunny Programme had not been permitted to sell in China - unless direct to consumers - until just a few years ago. In November 2018, we launched our Cruelty Free International Leaping Bunny China pilot, the first project of its kind, charting a path for brands to sell and produce their cosmetic products in China whilst maintaining their Leaping Bunny approval.
The Coalition for Consumer Information on Cosmetics (CCIC) recently separately announced their own route to market for US and Canadian brands that they approve under their own licensed Leaping Bunny programme.
The original Cruelty Free International pilot was possible thanks to close cooperation between Cruelty Free International, our Leaping Bunny brands, Oriental Beauty Valley (the home of China's cosmetics industry in Shanghai), our regulatory advisors Knudsen&CRC and, crucially, the Fengxian district.
The pilot allowed us to ensure that the expertise was on hand to enable companies to remain free from new animal testing, to meet Chinese regulatory requirements, and expertly find a way through all the other requirements.
In January 2021, two measures were published by the Chinese State Administration for Market Regulation that indicated that, before any animal testing would be carried out on a product, manufacturers would first be notified. This has helped provide assurance to brands that they can prevent animal testing occurring if any concerns were ever raised in relation to a product. Brands or their responsible person in China would be able to act before any testing takes place, for example by removing the products from sale.
Following a very successful pilot programme and the legislative changes, Leaping Bunny brands following our specific criteria became able to domestically manufacture non-special use cosmetics across China for sale to Chinese consumers.
In addition, we were delighted that early in 2021, the anticipated change to Chinese regulations for the export of general cosmetic products to mainland China was confirmed as coming into force as of 1st May 2021.
The Chinese regulator, the NMPA, published further detail around its cosmetics laws, clarifying that imported goods classed as 'general cosmetics' do not need to be tested on animals as long as they have been made according to Good Manufacturing Practices (GMP) and have a full Safety Assessment report. Companies will need a GMP certificate issued by the government in the country where the products are made and exported from.
We have since worked closely with some brands to ensure this could be achieved fully without new animal testing to meet Chinese regulatory requirements and in accordance with the requirements of the NMPA. Whether manufacturing domestically or importing, entering China is a detailed and often lengthy process. Brands, of course, need to be either Leaping Bunny approved, or in application with us to become so, to then meet the additional criteria and receive our approval to enter the Chinese market.
We continue to monitor developments in China and globally, and advise our Cruelty Free International Leaping Bunny brands accordingly.
Michelle Thew
Chief Executive Officer
Cruelty Free International